SELECTED
SELECTED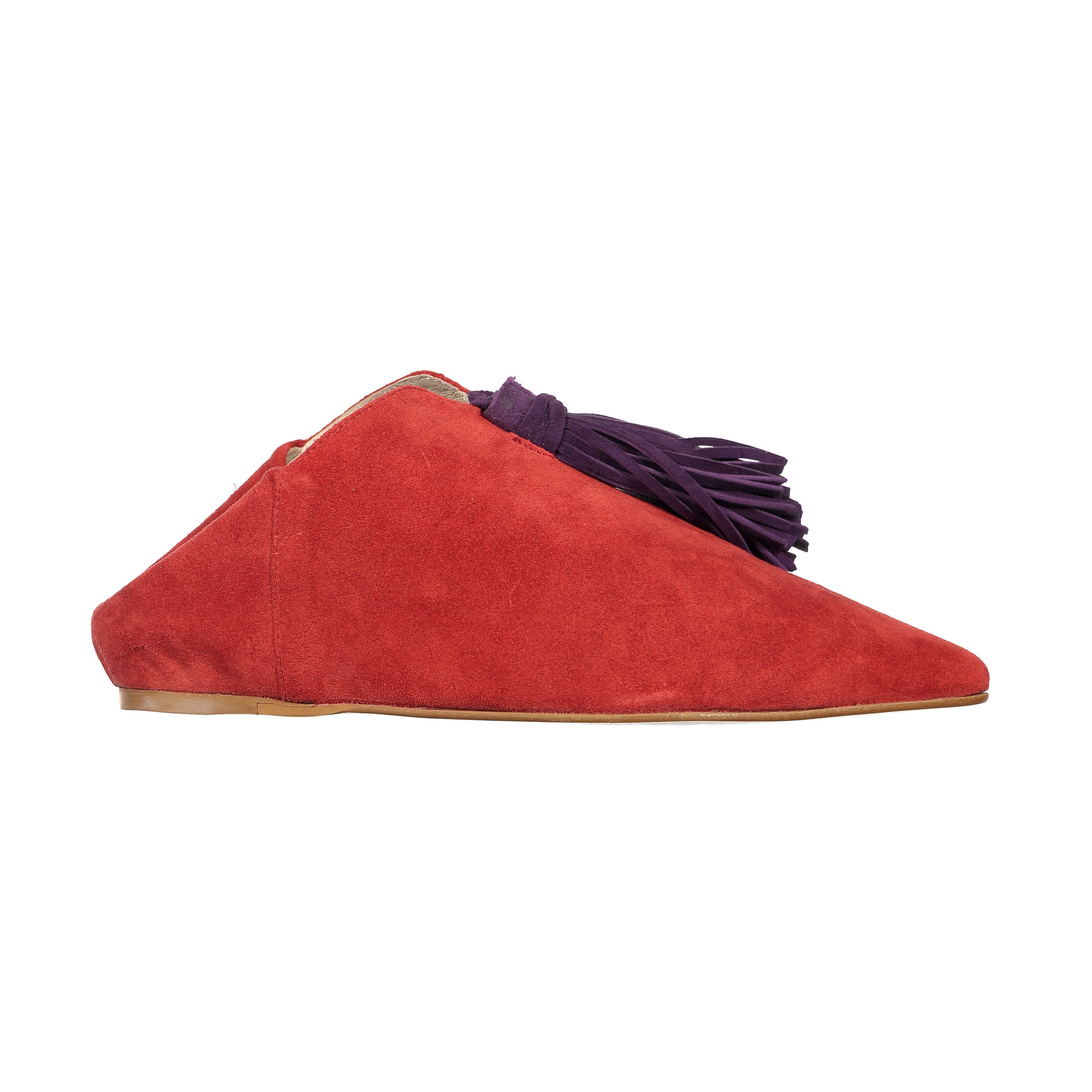 SELECTED
SELECTED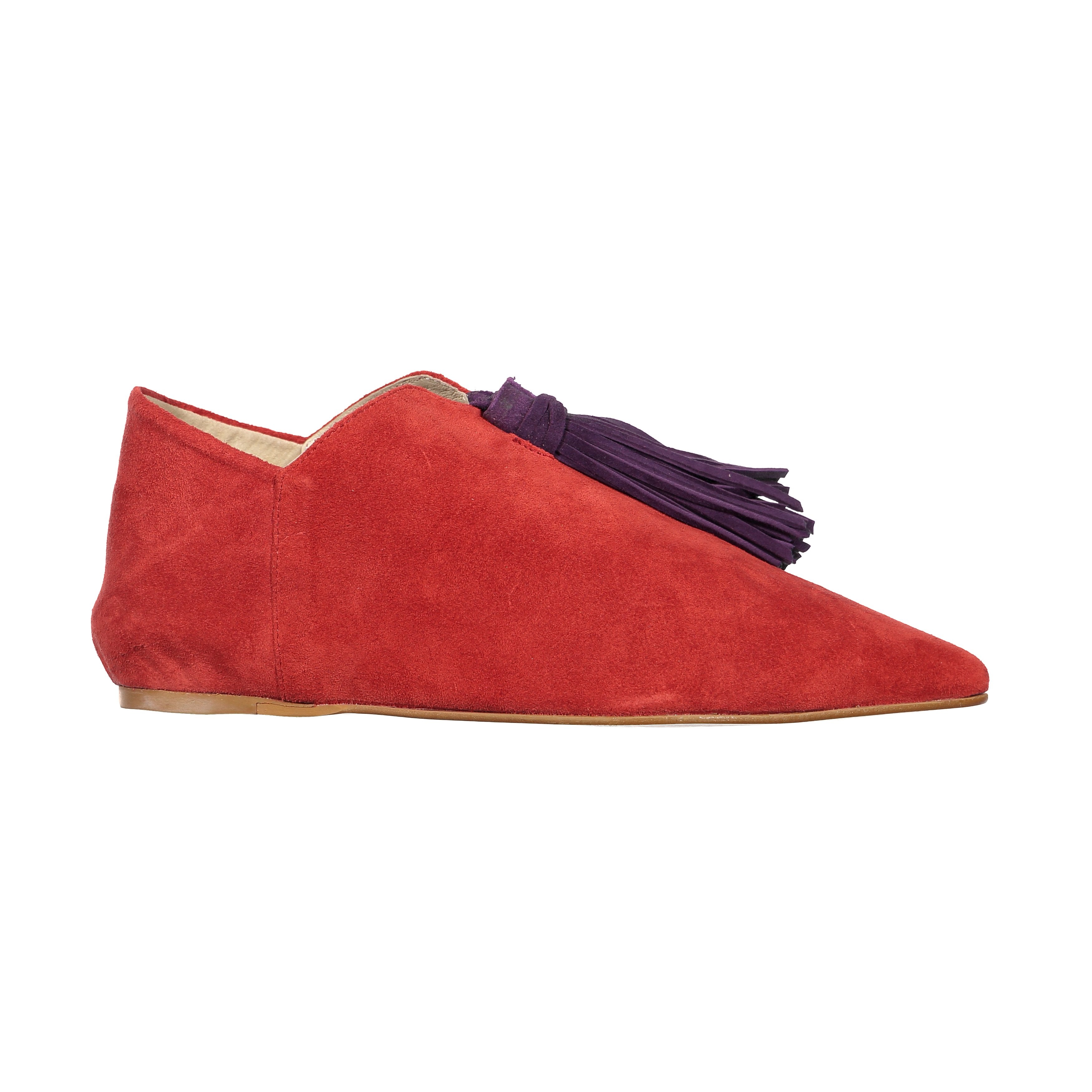 SELECTED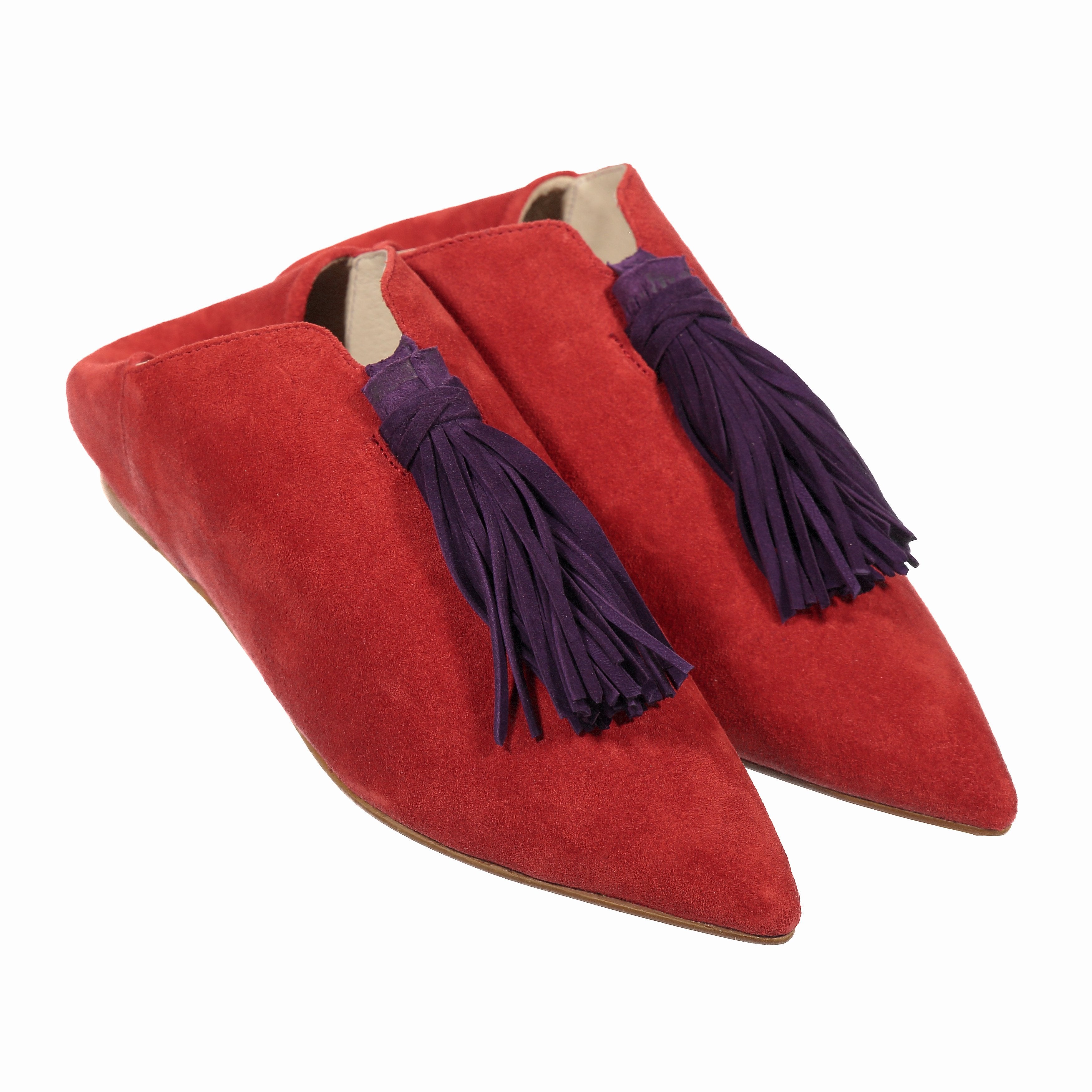 SELECTED
Blossom Red
Description
Deliveries and Returns
Size guide
These wedged slippers combine soft suede and a colourful fringe. Adaptable to different styles, they can be paired with either short or wide leg pants.
Available in other colors.
Measures & Composition:
Hidden platform: 2 cm
Size normal
Outside:
Inside: leather
Sole: neolite
Made in Portugal.
Make to order no longer available.
We ship to over 25 countries. If your country is not on the list mail us at support@maray.pt and we will try to arrange something for you.
If the size does not fit or you are not 100% convinced with your shoes you have 14 days to return it to us and exchange them for a brand new pair.
For more details check our deliveries, returns and refunds policy.
{"id":568541446191,"title":"Blossom Red","handle":"blossom-red","description":"\u003cp\u003eThese wedged slippers combine soft suede and a colourful fringe. Adaptable to different styles, they can be paired with either short or wide leg pants.\u003cbr\u003e Available in other colors.\u003cbr\u003e Measures \u0026amp; Composition:\u003cbr\u003e Hidden platform: 2 cm\u003cbr\u003e Size normal\u003cbr\u003e Outside: \u003cbr\u003e Inside: leather\u003cbr\u003e Sole: neolite\u003cbr\u003e Made in Portugal.\u003c\/p\u003e\n\u003cmeta charset=\"utf-8\"\u003e\u003cmeta charset=\"utf-8\"\u003e\u003cmeta charset=\"utf-8\"\u003e\n\u003cp\u003e\u003cspan\u003eMake to order no longer available.\u003c\/span\u003e\u003c\/p\u003e","published_at":"2018-03-12T15:25:04+00:00","created_at":"2018-03-12T15:25:04+00:00","vendor":"MARAY PORTUGAL","type":"SHOE","tags":["Blossom"],"price":13000,"price_min":13000,"price_max":13000,"available":true,"price_varies":false,"compare_at_price":13000,"compare_at_price_min":13000,"compare_at_price_max":13000,"compare_at_price_varies":false,"variants":[{"id":7174318817327,"title":"36","option1":"36","option2":null,"option3":null,"sku":"OTBLORED36","requires_shipping":true,"taxable":true,"featured_image":null,"available":true,"name":"Blossom Red - 36","public_title":"36","options":["36"],"price":13000,"weight":800,"compare_at_price":13000,"inventory_management":"shopify","barcode":null,"quantity_rule":{"min":1,"max":null,"increment":1}},{"id":7174318850095,"title":"37","option1":"37","option2":null,"option3":null,"sku":"OTBLORED37","requires_shipping":true,"taxable":true,"featured_image":null,"available":true,"name":"Blossom Red - 37","public_title":"37","options":["37"],"price":13000,"weight":800,"compare_at_price":13000,"inventory_management":"shopify","barcode":null,"quantity_rule":{"min":1,"max":null,"increment":1}},{"id":7174318882863,"title":"38","option1":"38","option2":null,"option3":null,"sku":"OTBLORED38","requires_shipping":true,"taxable":true,"featured_image":null,"available":true,"name":"Blossom Red - 38","public_title":"38","options":["38"],"price":13000,"weight":800,"compare_at_price":13000,"inventory_management":"shopify","barcode":null,"quantity_rule":{"min":1,"max":null,"increment":1}},{"id":7174318915631,"title":"39","option1":"39","option2":null,"option3":null,"sku":"OTBLORED39","requires_shipping":true,"taxable":true,"featured_image":null,"available":true,"name":"Blossom Red - 39","public_title":"39","options":["39"],"price":13000,"weight":800,"compare_at_price":13000,"inventory_management":"shopify","barcode":null,"quantity_rule":{"min":1,"max":null,"increment":1}},{"id":7174318981167,"title":"40","option1":"40","option2":null,"option3":null,"sku":"OTBLORED40","requires_shipping":true,"taxable":true,"featured_image":null,"available":true,"name":"Blossom Red - 40","public_title":"40","options":["40"],"price":13000,"weight":800,"compare_at_price":13000,"inventory_management":"shopify","barcode":null,"quantity_rule":{"min":1,"max":null,"increment":1}},{"id":7174319013935,"title":"41","option1":"41","option2":null,"option3":null,"sku":"OTBLORED41","requires_shipping":true,"taxable":true,"featured_image":null,"available":true,"name":"Blossom Red - 41","public_title":"41","options":["41"],"price":13000,"weight":800,"compare_at_price":13000,"inventory_management":"shopify","barcode":null,"quantity_rule":{"min":1,"max":null,"increment":1}},{"id":9494408101935,"title":"42","option1":"42","option2":null,"option3":null,"sku":"OTBLORED42","requires_shipping":true,"taxable":true,"featured_image":null,"available":true,"name":"Blossom Red - 42","public_title":"42","options":["42"],"price":13000,"weight":800,"compare_at_price":13000,"inventory_management":"shopify","barcode":null,"quantity_rule":{"min":1,"max":null,"increment":1}}],"images":["\/\/maray-dev2.iop2p.com\/cdn\/shop\/products\/blossom_red_00_2e87834b-ce10-4548-902a-694bfba6a292.jpg?v=1571735651","\/\/maray-dev2.iop2p.com\/cdn\/shop\/products\/Blossom_Red_21_2655253d-2819-47c4-a5c9-d0b2d0c5b416.jpg?v=1571735651","\/\/maray-dev2.iop2p.com\/cdn\/shop\/products\/blossom_red_0_6f6472b0-75f2-4213-b8ef-176711e5736f.jpg?v=1571735651","\/\/maray-dev2.iop2p.com\/cdn\/shop\/products\/Blossom_Red_2_bde95e43-8d19-4b17-adb7-ec1dae4a30d0.jpg?v=1571735651","\/\/maray-dev2.iop2p.com\/cdn\/shop\/products\/Blossom_Red_3_6f98575f-8f64-456d-89e7-682063763f79.jpg?v=1571735651","\/\/maray-dev2.iop2p.com\/cdn\/shop\/products\/Blossom_Red_1_04d346fb-6f60-4006-9ab5-f3d1970c4ee5.jpg?v=1571735651"],"featured_image":"\/\/maray-dev2.iop2p.com\/cdn\/shop\/products\/blossom_red_00_2e87834b-ce10-4548-902a-694bfba6a292.jpg?v=1571735651","options":["Size"],"media":[{"alt":null,"id":1530809581615,"position":1,"preview_image":{"aspect_ratio":1.4,"height":1080,"width":1512,"src":"\/\/maray-dev2.iop2p.com\/cdn\/shop\/products\/blossom_red_00_2e87834b-ce10-4548-902a-694bfba6a292.jpg?v=1571735651"},"aspect_ratio":1.4,"height":1080,"media_type":"image","src":"\/\/maray-dev2.iop2p.com\/cdn\/shop\/products\/blossom_red_00_2e87834b-ce10-4548-902a-694bfba6a292.jpg?v=1571735651","width":1512},{"alt":null,"id":1530809614383,"position":2,"preview_image":{"aspect_ratio":1.0,"height":3500,"width":3500,"src":"\/\/maray-dev2.iop2p.com\/cdn\/shop\/products\/Blossom_Red_21_2655253d-2819-47c4-a5c9-d0b2d0c5b416.jpg?v=1571735651"},"aspect_ratio":1.0,"height":3500,"media_type":"image","src":"\/\/maray-dev2.iop2p.com\/cdn\/shop\/products\/Blossom_Red_21_2655253d-2819-47c4-a5c9-d0b2d0c5b416.jpg?v=1571735651","width":3500},{"alt":null,"id":1530809647151,"position":3,"preview_image":{"aspect_ratio":1.5,"height":1080,"width":1620,"src":"\/\/maray-dev2.iop2p.com\/cdn\/shop\/products\/blossom_red_0_6f6472b0-75f2-4213-b8ef-176711e5736f.jpg?v=1571735651"},"aspect_ratio":1.5,"height":1080,"media_type":"image","src":"\/\/maray-dev2.iop2p.com\/cdn\/shop\/products\/blossom_red_0_6f6472b0-75f2-4213-b8ef-176711e5736f.jpg?v=1571735651","width":1620},{"alt":null,"id":1530809679919,"position":4,"preview_image":{"aspect_ratio":1.0,"height":3500,"width":3500,"src":"\/\/maray-dev2.iop2p.com\/cdn\/shop\/products\/Blossom_Red_2_bde95e43-8d19-4b17-adb7-ec1dae4a30d0.jpg?v=1571735651"},"aspect_ratio":1.0,"height":3500,"media_type":"image","src":"\/\/maray-dev2.iop2p.com\/cdn\/shop\/products\/Blossom_Red_2_bde95e43-8d19-4b17-adb7-ec1dae4a30d0.jpg?v=1571735651","width":3500},{"alt":null,"id":1530809712687,"position":5,"preview_image":{"aspect_ratio":1.0,"height":3500,"width":3500,"src":"\/\/maray-dev2.iop2p.com\/cdn\/shop\/products\/Blossom_Red_3_6f98575f-8f64-456d-89e7-682063763f79.jpg?v=1571735651"},"aspect_ratio":1.0,"height":3500,"media_type":"image","src":"\/\/maray-dev2.iop2p.com\/cdn\/shop\/products\/Blossom_Red_3_6f98575f-8f64-456d-89e7-682063763f79.jpg?v=1571735651","width":3500},{"alt":null,"id":1530809745455,"position":6,"preview_image":{"aspect_ratio":1.0,"height":3500,"width":3500,"src":"\/\/maray-dev2.iop2p.com\/cdn\/shop\/products\/Blossom_Red_1_04d346fb-6f60-4006-9ab5-f3d1970c4ee5.jpg?v=1571735651"},"aspect_ratio":1.0,"height":3500,"media_type":"image","src":"\/\/maray-dev2.iop2p.com\/cdn\/shop\/products\/Blossom_Red_1_04d346fb-6f60-4006-9ab5-f3d1970c4ee5.jpg?v=1571735651","width":3500}],"content":"\u003cp\u003eThese wedged slippers combine soft suede and a colourful fringe. Adaptable to different styles, they can be paired with either short or wide leg pants.\u003cbr\u003e Available in other colors.\u003cbr\u003e Measures \u0026amp; Composition:\u003cbr\u003e Hidden platform: 2 cm\u003cbr\u003e Size normal\u003cbr\u003e Outside: \u003cbr\u003e Inside: leather\u003cbr\u003e Sole: neolite\u003cbr\u003e Made in Portugal.\u003c\/p\u003e\n\u003cmeta charset=\"utf-8\"\u003e\u003cmeta charset=\"utf-8\"\u003e\u003cmeta charset=\"utf-8\"\u003e\n\u003cp\u003e\u003cspan\u003eMake to order no longer available.\u003c\/span\u003e\u003c\/p\u003e"}